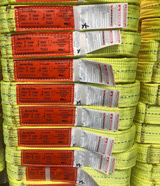 Service Sling is a whole sale full service sling manufacturer.
All our slings are assembled in America.
Service Sling provides slings for the lifting, securing, mooring, towing, and many other industries.
What safety measures are taken?
Service Sling takes safety very seriously. Service Sling does proof testing up to 500,000 lbs. in house. We hold high expectations during inspection of slings before leaving our warehouse. Service Sling is International Organization for Standardization (ISO) compliant. Every sling has a warning label attached. Service Sling also provides a packet with each order of slings with extended warning information and instructions on how to use the sling properly.
Why choose Service Sling?
Here are a couple of ideas…
Service Sling is owned by Clay Myers of Myers Design and Manufacturing (MDM). MDM producers signature end caps, spreader bars, and lifting gear for rental or purchase. Clay has over 30 years' experience in the piping and rigging industry. He has excelled the piping and rigging industry through engineering his own patented inventions. After many years in this industry, Clay has now decided to start Service Sling to better service the community with great quality slings.
"Let us help guide you in product choices and get you what you need!!"